"Hey Google, Pick Spokane!"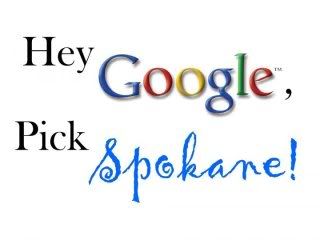 This is a great opportunity for Spokane: Google is asking communities to apply for their Google Fiber for Communities project, which would include deployment of fiber to make Internet speeds delivered more than 100 times faster than what most Americans currently have access to—more than 1 gigabit per second.
We've made impressive technological accomplishments like the nation's largest municipal wi-fi network deployment and a Stimulus Award in December 2009 for our Tincan program to expand broadband access to unserved and underserved communities. This addition will help us attact jobs and stay a competetive city.
You can provide comments during the Town Hall City Council meeting on Monday, March 22, at the East Central Community Center, 500 S. Stone, when we'll consider a resolution in support of this application. Please show support via letters and emails to googleproject@spokanecity.org or spokaneproject@gmail.com. You can fill out a citizen application for Spokane at www.google.com/appserve/fiberrfi/public/options and become a Facebook fan at "Hey Google, Pick Spokane."
And check out the website that just launched: heygooglepickspokane.com.
Community Events, News, Small Business